Norway Has A Radical Approach To Plastic Pollution, And It's Working
While other industrialized nations grapple with dangerously problematic plastic consumption, Norway stands out, recycling up to 97 percent of its plastic bottles thanks to a nationwide bottle deposit scheme.
Ingrained in the Norwegian model is the idea that the container is on loan; it's not yours. And why would you want it when you can exchange it over the counter ― at stores, gas stations or one of the several thousand reverse vending machines in public places like schools and supermarkets ― in return for cash or store credit?
Plastic producers in Norway are subject to an environmental tax. The more of their plastic they recycle, the lower the tax. Almost all of them are signed up to the bottle deposit scheme and, if they reach a collective recycling target of above 95 percent, they don't have to pay at all. Producers have collectively met that target for the last seven years.
They ensure they reach that target by attaching a deposit value ― the equivalent of around 15 to 30 cents, depending on size ― to each plastic bottle, to be redeemed when it's returned. The high-quality plastic waste that's collected can then be recycled into everything from textiles to packaging, including new plastic bottles.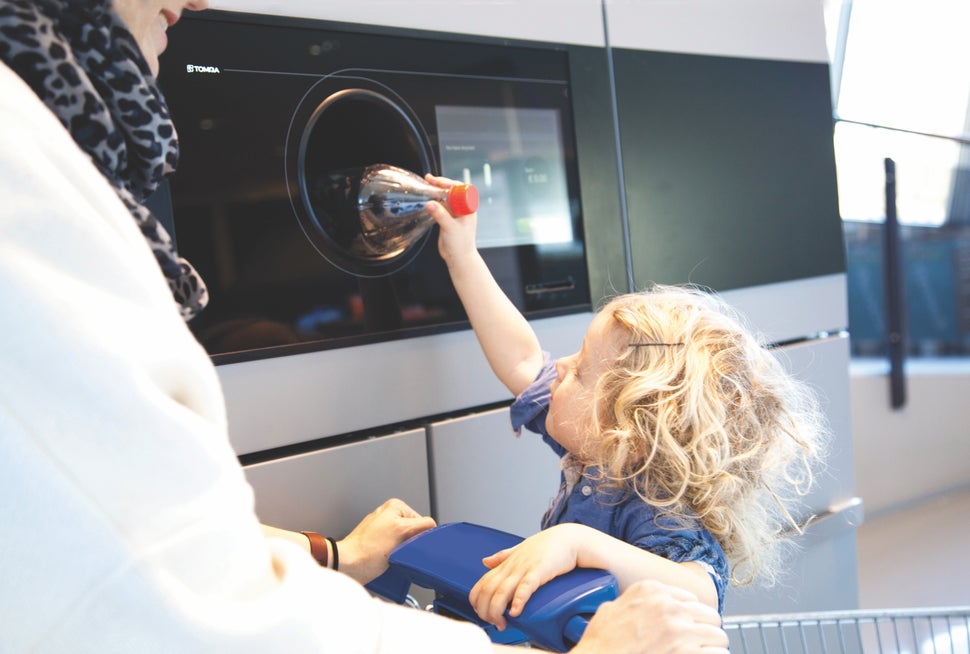 This simple but effective system would seem like a no-brainer for the United States, where recycling rates for plastic bottles have plunged from 37.3 percent in 1995 to 28 percent today.
It's no secret that America is going through a recycling crisis. Since the mid-1990s, there's been a huge uptake of single-stream recycling in the U.S. ― the type where households throw every supposedly recyclable thing into a single bag. This is cheaper for the local waste disposal authority and gives great tonnage while encouraging people to take a chance on stuff they think might be able to be recycled.
For a long time, it worked. Recyclers hauled the waste away, gave it a cursory sort (increasingly by automated machinery), and the materials were sold on the open market ― usually in China, where 31 percent of America's plastic was shipped to last year, according to supply chain management company Afflink. 
Until recently, the U.S. trade imbalance with China meant consumer goods arrived at U.S. ports and the empty containers could then be filled with plastic trash relatively cheaply. Then the sword fell ― or rather, China implemented its National Sword plan to reduce or ban imports of certain types of waste ― and low-grade plastic scrap from the U.S. and other industrialized economies was no longer welcome.